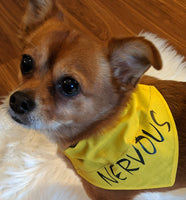 SAFE WALK Bandanas
Did you know that there is a color coding system that tells people about your dog's special needs or personality before they are approached?
Specific health or behavioral issues can be determined from a distance with our SAFE WALK BANDANAS.
*Color-coded        *Reversible         *Slip-on
SHOP DESIGNS
PERSONALIZED Bandanas
Show off your fur-baby in style. 
Personalized with your dog's name.
Give a forever keepsake
SHOP STYLES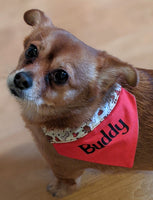 So many cute patterns, it was hard to choose, so we loaded up on some holiday bandanas.

Emily S.
We just celebrated our puppy's 1st birthday.  We love this "Birthday Girl" bandana and will takes pics of her with it on every year!

Debbie C.
We ordered Christmas bandanas and gave them as gifts for my grandpups. We loved the personalized names.

Margie L.
Love those bandanas. Honey and Hershey are ready for St. Patty's Day

Marlene R.
My dog is very anxious on our walks. I ordered the "NERVOUS" bandana in bright yellow and everyone notices from far away and gives us the courtesy of distance. Would definitely recommend.

Kerry V.
Do you share our passion for paws?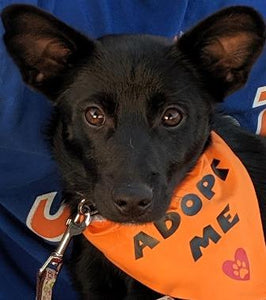 Pamper your pet while helping other less fortunate animals.  We will donate 10% of your purchase to assist local rescue groups and shelters.  These funds will help organizations buy much needed supplies, as well as assist in their pet adoption services.  
Together, we can help give these loving creatures the forever home they deserve!